Are you in search of a reliable and reputable supplier for Enoxaparin Sodium production? Look no further! Our company is dedicated to providing high-quality Enoxaparin Sodium, catering to the needs of the pharmaceutical industry worldwide. With our advanced technology and strict quality control standards, we are your trusted source for this essential medicine.
  Enoxaparin Sodium, also known as Heparin Sodium, is a widely used anticoagulant medication in the prevention and treatment of blood clots. It plays a crucial role in various medical procedures, including deep vein thrombosis (DVT) prevention, pulmonary embolism (PE) treatment, and during surgeries. As a result, the demand for Enoxaparin Sodium continues to rise, making its production an essential part of the pharmaceutical industry.
  At our state-of-the-art production facility, we prioritize quality and efficiency in each step of the manufacturing process. We combine cutting-edge technology, stringent quality control measures, and an experienced team to ensure the production of pure and reliable Enoxaparin Sodium. Our facility adheres to Good Manufacturing Practices (GMP), guaranteeing that our product meets the highest international standards.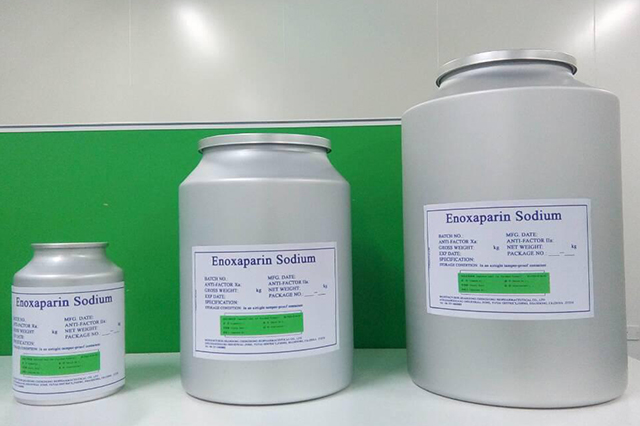 One of the key factors in Enoxaparin Sodium production is the selection of high-quality raw materials. We source our materials from trusted suppliers, ensuring their authenticity and purity. Our dedicated team of experts oversees every aspect of the production process, carefully monitoring and controlling each step to maintain the product's integrity.
  To address the specific needs of our clients, we offer customizability in the production of Enoxaparin Sodium. Whether you require specific concentrations, volumes, or packaging options, we can tailor our production to your unique requirements. Our flexibility enables us to provide you with the best solutions for your medical formulations without compromising on quality.
  Furthermore, we understand the importance of timely delivery. With a streamlined supply chain and efficient logistics management, we ensure that your orders are delivered promptly and safely. Our team works diligently to maintain a reliable and efficient shipping process, allowing you to receive your Enoxaparin Sodium products on time, every time.
  When it comes to Enoxaparin Sodium production, trust and quality are of utmost importance. As a leading supplier in the industry, we are committed to meeting and exceeding your expectations. Choose us as your preferred partner, and we will deliver the high-quality Enoxaparin Sodium you need, with consistency, reliability, and professionalism.
  Contact us today to discuss your Enoxaparin Sodium requirements. Our dedicated customer support team is always ready to assist you and provide the information you need. Together, let's make a positive impact on patients' lives worldwide with reliable and top-quality Enoxaparin Sodium production.