Welcome to our international trading website, your one-stop destination for sourcing high-quality Enoxaparin Sodium Active Pharmaceutical Ingredients (API). As a renowned Enoxaparin Sodium API manufacturer, we take pride in delivering superior-grade products that meet the demanding needs of the global pharmaceutical market. In this article, we will showcase our capabilities as an Enoxaparin Sodium API manufacturer and highlight the benefits of partnering with us for your pharmaceutical trade requirements.
  Uncompromised Quality:
  Quality is the cornerstone of our Enoxaparin Sodium API manufacturing process. We follow stringent Good Manufacturing Practices (GMP) guidelines and employ state-of-the-art facilities and cutting-edge technology to ensure exceptional quality control. From raw material selection to the final stages of API production, we conduct rigorous testing and analysis to guarantee the purity, potency, and safety of our Enoxaparin Sodium API. Our commitment to quality empowers pharmaceutical manufacturers to develop reliable and effective formulations that meet regulatory requirements and optimize patient outcomes.
  Reliable Manufacturing and Capacity:
  As an Enoxaparin Sodium API manufacturer, we boast a robust manufacturing infrastructure that ensures reliability and efficiency in production. Our well-equipped facilities, combined with optimized manufacturing processes, enable us to consistently meet the global demand for Enoxaparin Sodium API. Additionally, our high-capacity production allows us to cater to both small-scale and large-scale orders, ensuring timely delivery and meeting the diverse needs of our global partners.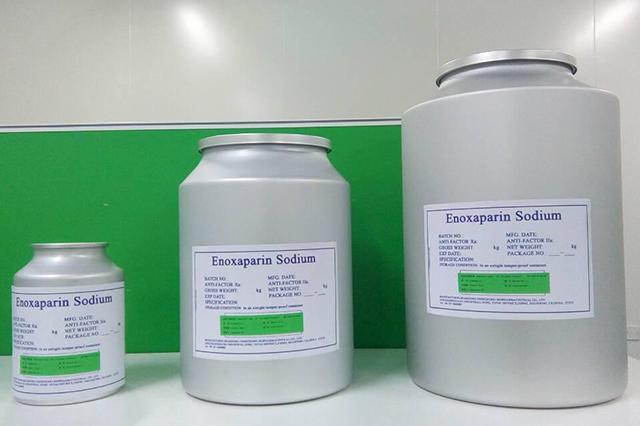 International Regulatory Compliance:
  We understand the importance of regulatory compliance in international pharmaceutical trade. Our Enoxaparin Sodium API manufacturing facility adheres rigorously to international guidelines and maintains the necessary certifications and registrations for validation. By partnering with us, you can trust that our API complies with regulatory standards and facilitates the smooth development and distribution of pharmaceutical formulations conforming to global requirements.
  Global Reach and Competitive Pricing:
  Our aim is to forge partnerships that span the globe. With an extensive network of clients and distributors worldwide, we have established a strong presence in international pharmaceutical trade. Our strategic alliances and efficient logistics enable us to swiftly cater to global market demands.
  Additionally, we offer competitive pricing that enhances the cost-effectiveness of your pharmaceutical trade operations. By choosing us as your trusted Enoxaparin Sodium API supplier, you can benefit from our competitive rates without compromising on quality or service.
  As a trusted Enoxaparin Sodium API manufacturer in the global pharmaceutical trade industry, we are committed to delivering high-quality products, reliable manufacturing, international regulatory compliance, and competitive pricing. Choose us as your trusted partner to fulfill your Enoxaparin Sodium API requirements, and experience the confidence of working with a reputable supplier. Contact us today to explore the possibilities of a successful partnership and seamless, efficient trade operations.