Qingdao Jiulong Pharmaceutical is a heparin sodium API supplier. It is committed to providing high quality heparin sodium apis and providing reliable raw material supply services to companies and manufacturers in the pharmaceutical industry. We are well known for our quality products, professional team and excellent customer support. Whether you are looking for a reliable supplier or looking for a partner, Qingdao Jiulong Medicine is your ideal choice.
  High quality heparin sodium API supply
  Qingdao Jiulong Pharmaceutical has rich experience and expertise in the field of heparin sodium apis. We work with reliable pharmaceutical manufacturers to ensure that our supply of heparin sodium apis meets international quality standards and pharmacopoeia requirements. We strictly control the production process of our products and ensure the quality and purity of each batch of products through a strict quality management system.
  Diversified product selection
  Qingdao Jiulong Pharmaceutical heparin sodium API supplier provides a variety of specifications and types of heparin sodium apis to meet the different needs of customers. Our product line covers regular heparin sodium, low molecular weight heparin sodium and other varieties, so that pharmaceutical companies can choose the right products in the production process. Whether you need a large batch of apis or a small batch of test supplies, we can meet your needs.
  Strict quality control and compliance
  heparin sodium API supplier takes quality as one of our highest commitments. We strictly implement the international quality management system to ensure that our products comply with GMP (Good Manufacturing Practice for Pharmaceuticals) and other relevant certification standards. Our products undergo rigorous testing and verification to ensure their safety, purity and stability. We also provide complete product quality documentation and technical support to meet customer compliance requirements.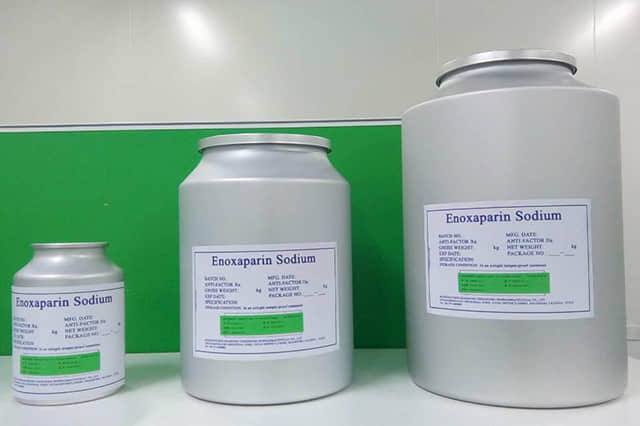 Professional customer support
  Qingdao Jiulong Medicine provides professional customer support services with the concept of customer first. Our team consists of experienced professionals with deep industry knowledge and technical expertise. No matter you have any questions or needs about the product, we will respond promptly and provide solutions. We are committed to establishing long-term and stable cooperative relations with customers, providing customers with continuous technical support and market information to help customers gain an advantage in the highly competitive pharmaceutical market.
  Integrity and reliability
  Qingdao Jiulong Medicine takes integrity and reliability as its core values. We always follow the principle of honesty and trustworthiness to ensure that the transaction and cooperation process with customers is transparent, fair and legal. We strictly abide by the relevant laws and regulations and industry standards to protect the interests of customers and maintain the reputation of the industry.
  Supply chain management and fast delivery
  heparin sodium API supplier- Qingdao Jiulong Pharmaceutical has a sound supply chain management system and efficient logistics system to process orders in a timely manner and ensure fast delivery. We work with reliable logistics partners to ensure products reach our customers safely. Wherever you are, we can provide flexible supply chain solutions to meet your needs.
  As a heparin sodium API supplier, Qingdao Jiulong Pharmaceutical is committed to providing customers with quality products and professional services. We will continue to improve our strength and service level, and work with customers to create a better future. If you have a need for heparin sodium API supply, please contact us, we will be happy to provide you with a satisfactory solution.