Rinse fresh (or naturally thawed frozen) pork lungs carefully with water to remove internal and external dirt and skin fat, then chop them into paste. After mixing thoroughly, add equal amount of water to mix and then add a little 0.01% of the preservative to mix well.
  Crude sodium heparin is completely dissolved in a 2% sodium chloride solution to produce a solution of approximately 8% solubility that can be heated and dissolved appropriately. Use 5mol sodium hydroxide solution to fine-tune the feed night pH to 8.0-8.2, heat up to 78-80 degrees, add 0.15-0.2mol/L potassium permanganate solution every 100 million units, until the purple no longer fade, that is, the end point of primary oxidation operation; Add a little saturated sodium sulfite solution, which is good when the red color is just gone. When the temperature of the filtrate drops to 36 degrees, a re-filtration is carried out. The pH of the filtrate is adjusted to 10.5-11.0 with a little saturated sodium hydroxide solution. Under full agitation, a small amount of 3%-5% hydrogen peroxide solution is slowly added and the secondary oxidation is carried out at 25-27 degrees for 16-24 hours.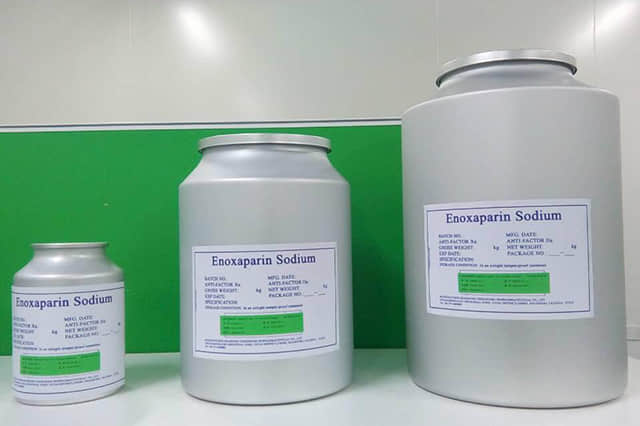 The above precipitates are collected when the filtrate is oxidized, dissolved with a small amount of 10% sodium chloride solution, and then precipitated with 3-4 times the amount of 95% ethanol (ethanol can be recycled after recovery, distillation and dehydration). The precipitate was dehydrated with anhydrous ethanol, ground, dehydrated with acetone, and dried with far-infrared vacuum (50-60 degrees) to obtain refined heparin.
  Heparin sodium API is used for sodium extraction. Jiulong Medicine is a professional Heparins Manufacturer, Heparin sodium Price affordable, welcome to consult.